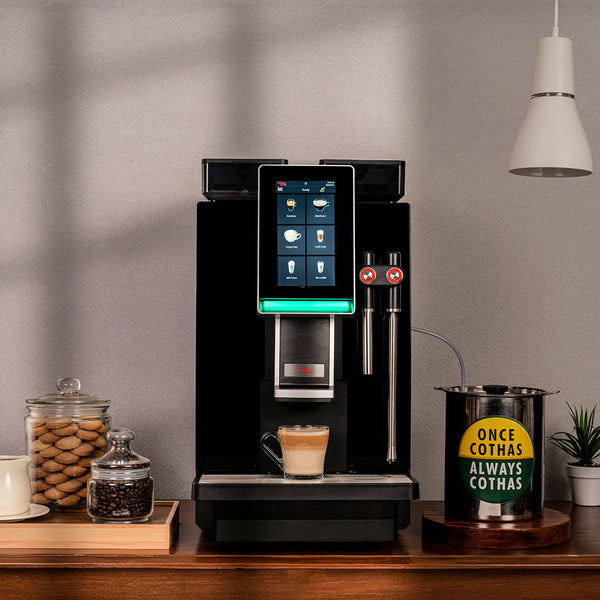 Regular price
Rs. 207,680.00
Sale price
Rs. 236,000.00
The Cothas Exotica is perfect for commercial use by professional customers. It combines high efficiency, a long life cycle, and powerful productivity, allowing you to customize different flavored drinks, heat drinks, and make milk foam with a steam wand.
The metallic body and brewer provide powerful guarantee for long life and high stability under the commercial condition. With the easy maintenance and reliable metal brewer, any maintenance can be quickly carried out.
Chocolate lovers can benefit from the coffee bar, as it can easily create a cup of milk chocolate with just one touch. The ceramic flat-type blades grind the coffee beans to a unified-size powder, bringing out the unique flavor of the coffee while giving a more balanced taste.
The smooth and hot milk frothing system contributes to the foam quality and is also easily cleaned. With the combination of powder, milk, and a brew system, it allows drinkers to have endless creativity.
With the support of the hot water dispenser and steam wand, you can have complete control over the heating, foam making, and one-touch hot water. With Exotica, you can be your own barista.
Advised Daily Output
200 cups
Hourly Output
Espresso(M: 50ml)
100 cups
Americano(M: 210ml)
80 cups
Cappuccino(M: 200ml)
80 cups
Hourly Hot Water Output
30L
Water Tank Capacity
4L
Powder Hopper Capacity
Milk Powder 600g/Chocolate Powder 1000g
Beans Hopper Capacity
Approx. 1400g
Grounds Hopper Capacity
Approx 70 pcs, 10 g/pcs
Power Supply
220-240V 50/60HZ 2700-3100 W
Dimension (W*L*H)
34*54.5*61cm
Net Weight
26.5KG
Configuration
Minibar S
Minibar S1
Minibar S2
4L Water Tank
YES
Water Barrel
Tap Water Supply
E-payment
Optional
Dual Boiler System
YES
Dual Pump System
Grinder
1 piece
Powder System
YES
Separated Hot Water Dispenser
No
YES
YES
Steam Wand
NO
NO
YES
Display Configuration
Capacitive Touch Screen
Display Size
7.1"
Display Shape
Vertical
Milk Coffee
YES
Customize Beverage
Beverage Variety
>30 options
Customize Interface
YES
Mental Brew Unit
Brewer Movability
Milk System Time Clean
Milk System Automatic Clean
Non-Comprehensive AMC without spares
AMC charges Quarterly visit/ year within the city 70 km radius- Rs.10,000/- + tax applicable.
• Additional BD calls charges Rs. 1000/ call+ tax
AMC charges 12 visit/ year within the city 70 km radius- Rs.18,000/- + tax applicable
• Free visits – BD 4 visits.
• Additional BD calls- Rs. 500/ visit applicable.
Service turnaround time: 24 hours
AMC charges Quarterly visit/ year above 70 Kms - Rs.18,000/ + tax + Actual transportation charges applicable
Service turnaround time: 72 hours Spares actual +tax.