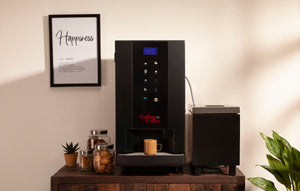 Fresh and hot Coffee, with a single tap
• Sleek touchscreen interface
• Fully automatic process
• Consistent quality brewing, for the best coffee and tea.
Suited for all your workplace needs
• End-to-end beverage solution
• Low maintenance required
• Cothas Quality Promise
COTHAS GRANDE DIGITAL VENDING MACHINE
• Convenience with Quality, Assured.
• Sleek and minimalist design that naturally blends in with your workplace.
• Sturdy, ergonomic design gives you cup after cup of freshness, with none of the hassle.
• Elevate your workplace with Cothas Grande.
Who is it suitable for
• Start-ups & SME
• Corporates
• Factories
• Co-working Spaces
• Hospitals
• Hotels, Restaurants or Café